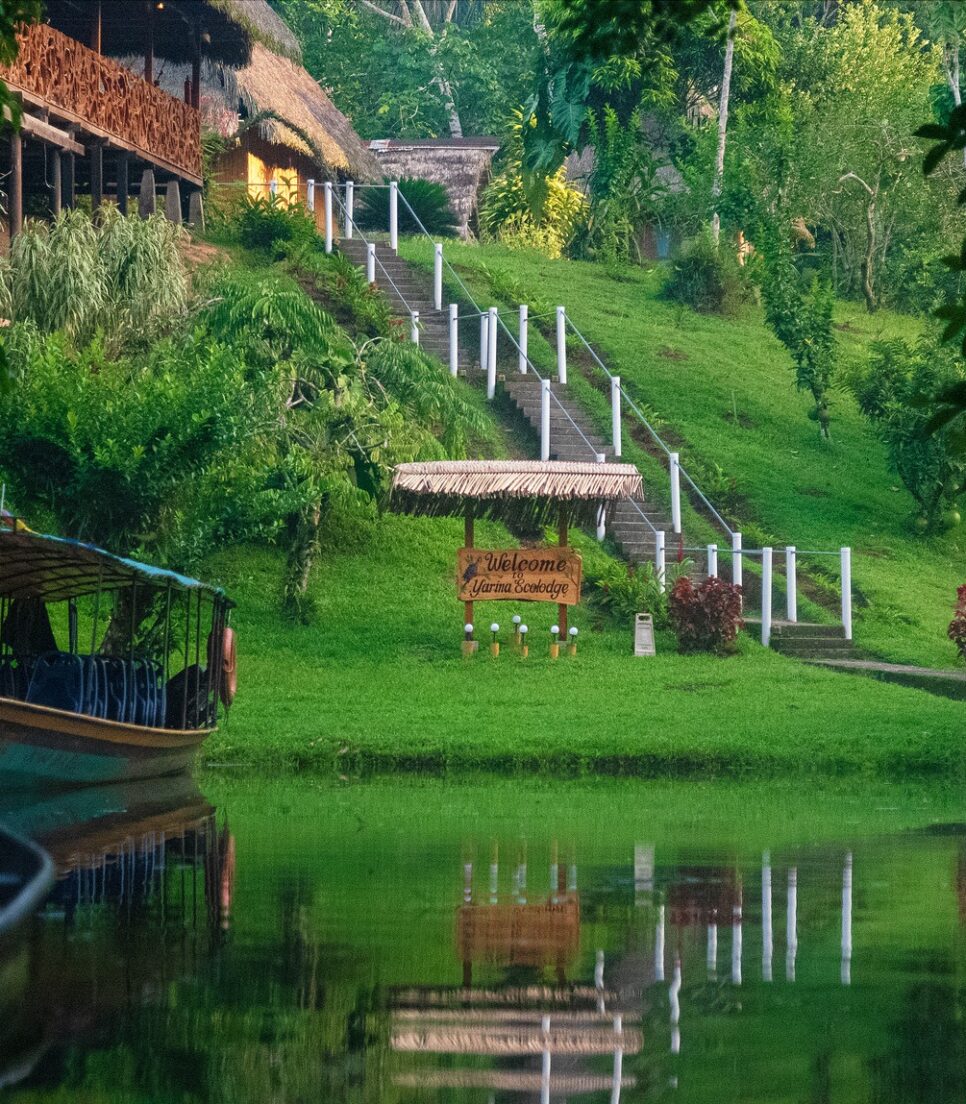 Yarina Lodge 4 days / 3 nights
$552 per person per person
Welcome to the fantastic world of the Ecuadorian Amazon Forest "YARINA ECOLOGICAL RESERVE", a veritable paradise located in the province of Orellana, in the heart of YASUNÍ National Park. The adventure starts with a 30-minute flight from Quito to El Coca, traversing the majestic Andes, and flying over the beautiful Ecuadorian forest.…
All about the Yarina Lodge 4 days / 3 nights
Welcome to the fantastic world of the Ecuadorian Amazon Forest «YARINA ECOLOGICAL RESERVE«, a veritable paradise located in the province of Orellana, in the heart of YASUNÍ National Park.
The adventure starts with a 30-minute flight from Quito to El Coca, traversing the majestic Andes, and flying over the beautiful Ecuadorian forest. Then you will sail through the waters of the Napo River, the main tributary of the Amazonas River, up to its confluence with Rio Maduro.
The crossing from El Coca toward the Yarina Ecological Reserve is comfortably done in power-driven canoes, and takes about one hour, during which time you can enjoy the view of the beautiful riverside landscapes and the homes of Quichua communities, that even today keep their customs and traditions, such as the making of «chica de yuca» (a traditional saliva-fermented yuca drink).
Get ready to enjoy days filled with adventures, learning and new discoveries.
What to bring?
Items you will need
Personal identification
Hat or cap
Sun lotion and mosquito repellent
Long light pants
T-shirts with long sleeves – pullover and coat
Flashlight – rain coat and / or wind breaker
Rubberboots from size 44 upwards
The tour package inclusions and exclusions at a glance
What's included in this tour
Items that are covered in the cost of tour price.
Native naturalist guide
English-speaking guide
 Three meals per day during the tour
Program- excursions
Drinking water to all the meals and during the hikes
Supply of rubber boots up to size 43
What's not included in this tour
Items that are not covered in the cost of tour price.
Personal jungle equipment such as rain coat, latern and hiking shoes (from size 44 upwards)
Expenses for additional drinks and food
Tips for the staff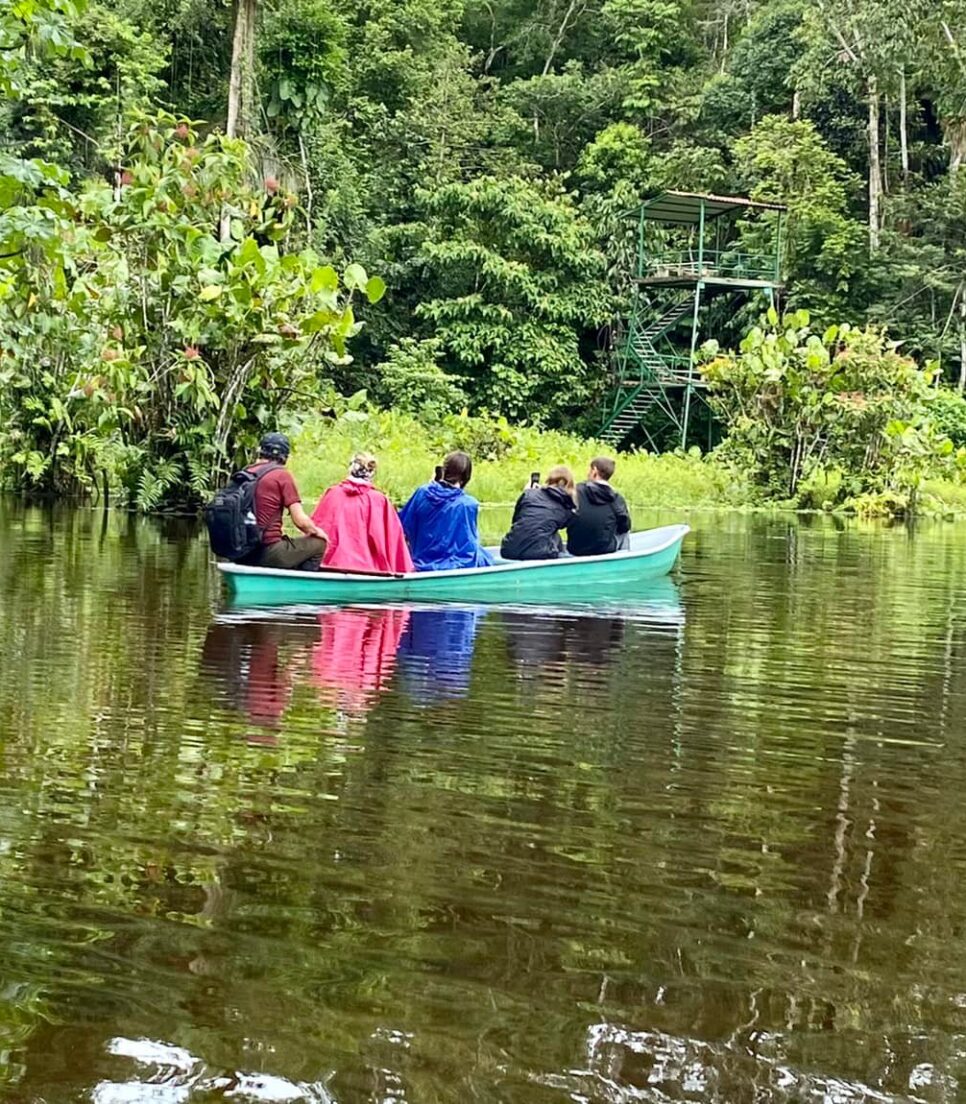 Yarina Lodge 4 days / 3 nights
Lodging
The YARINA Ecological Reserve, is an eco lodge, built with high quality standards, using typical materials of the area such as caña guadua, and paja toquilla, maintaining the harmony of the sector, in a symbiosis of architecture, jungle environment and comfort , which will allow tourists and visitors to have a good night's sleep, and dawn with the bird song concert.
All huts are equipped with bathroom and hot shower, as well as all the services for your relax and comfort, designed and created with biodegradable materials.
They offer accommodation in double, triple, quadruple and family huts
Water is provided 24 hours a day in showers and bathrooms, as well as a permanent station of pure water for drinking.
Energy (24 hours a day), with voltage 110 v.
In the spacious dining room, 3 meals a day are served, and it is a fantastic viewpoint, perfect at dawn, to enjoy bird watching, and in the afternoons – evenings – to be inspired by the magical sunsets worthy of beautiful photographs.
The menu, of typical Ecuadorian and local food, is combined with options for vegetarians, vegans, celiacs, or another type of food preference.
Lodging details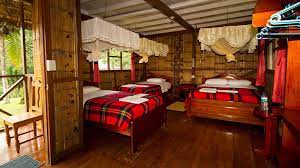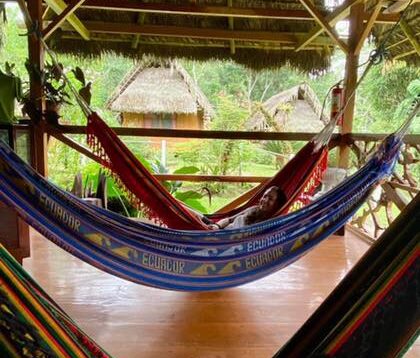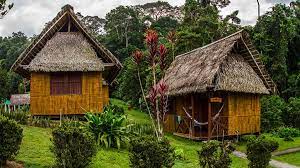 Your message has been sent. We will contact you as soon as possible. This message will disappear shortly.
Please fill in all the required fields.