Akangau Jungle Expeditions is an indigenous travel agency operating in the city of Tena. It was started at the beginning of 2009 by Misael Cerda in his ancestral home in the Kicwha community of San Bartolo de Uchuculin. Misael has 20 years of experience as a guide and is passionate about conserving the jungle and his culture. He brings this passion to Akangau Jungle Expeditions which offers indigenous tours to the jungle and shows his people's culture, heritage and traditions to the world. Akangau Jungle Expeditions is on the fringe of other tour operators because it offers something more than just a visit to the jungle. It offers a cultural exchange and the opportunity to experience real Kichwa community life.
Akangau Jungle Expeditions welcomes anyone who loves nature and culture and invites you to be a part of its sustainable community tourism.
Today, sustainable tourism has become an important component of the tourist industry and has grown rapidly. It is also an invaluable and very efficient tool that helps fight against the destruction of ecosystems and cultural heritage.
Akangau Jungle Expedition incorporates these principles in order to guarantee a responsible, sustainable and high-quality management that both satisfies travellers' expectations and also benefits local people.
We focus on maintaining a balance between social, economic and ecological interests in order to guarantee that future generations have access to the same resources that we use today.
We involve the families in that they share their ancestral knowledge and teachings.
We carry out our work in a fair and just way so that profits stay in the local area and everybody benefits.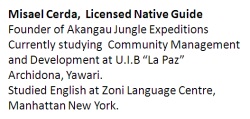 The meaning behind our name and logo
"Akangau" is the majestic eagle found soaring high above the Ecuadorian Amazon.  Its name comes from the sound it makes and when the local people, called Napo Runas of Amazonian Kichwas, hear this sound they take it as a warning that something is about to happen.  The bird uses this call to fight against invaders that threaten its territory.
The symbol in our logo is an Omagua man. This man symbolizes the ancient Kichwa culture when a man having long hair was a symbol of his strength. They believe that hair is a physical manifestation of our thoughts and an extension of ourselves. The same happens with thoughts of Mother Nature. We can see her "hair" (the grass) constantly growing. This grass has been used since ancient times by indigenous people for rituals and medicinal purposes. They have used the earth's "hair" in their ceremonies for physical and spiritual healing as well as in their sacred rituals.
Our hair guides us through life. It represents each and every one of us. Hair is a point of connection between body and spirit according to indigenous peoples. In many cultures around the world, there are stories or legends in which hair plays a crucial role.