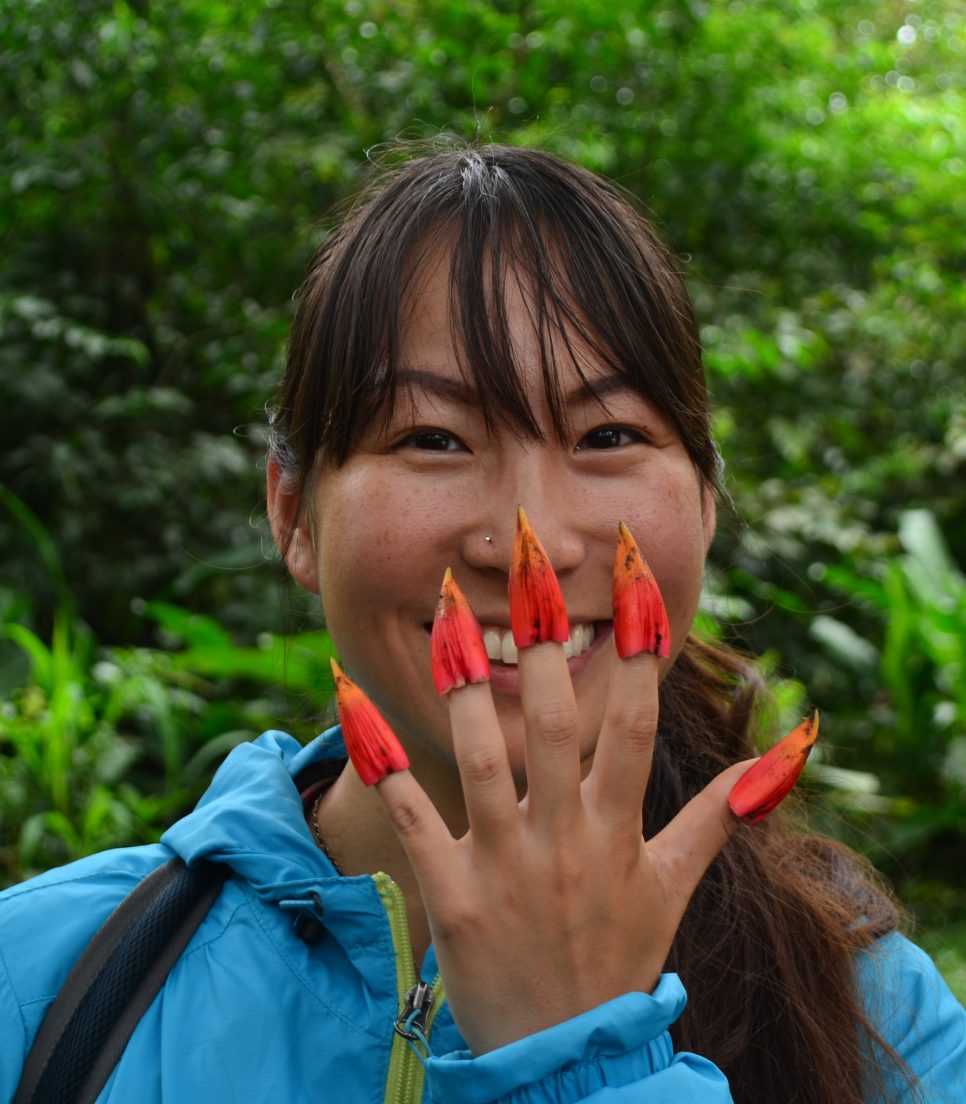 Upper and Lower amazon – Eco-Dreams cabins
$210 per person ( minumun 2 pax)
$190 per person ( 3 o more persons)
The best combination of our tours, you can find it in this program. Know 2 different Amazonian areas  in 3 days / 2 nights. Adventure, nature, and communities!
All about the Upper and Lower amazon – Eco-Dreams cabins
The best combination of our tours, you can find it in this program. Know 2 different Amazonian areas  in 3 days / 2 nights. Adventure, nature, and communities!
What to bring?
Items you will need
Swimwear (for walking in the waterfalls)
Shorts
A hat
Long trousers (not jeans) for walking in the jungle
Long sleeved top or light sweater
Insect repellent
Sun Cream
Shoes (We supply boots but we suggest bringing a pair of light shoes for walking in the cabanas)
A small bottle for carrying water
Torch
The tour package inclusions and exclusions at a glance
What's included in this tour
Items that are covered in the cost of tour price.
Native Guide
All meals, ( 2 breakfasts ,  3 lunch,  2 dinners)
Water
Rubber boots
Accommodation in rustic cabaña
Transport
What's not included in this tour
Items that are not covered in the cost of tour price.
Entrance in Animal rescue center ( $ 4 per person)
Tips
Extra drinks
Day 1

LOWER AMAZON: Canoe trip, museum, tubing, Trek, animal rescue center

The tour starts at 9am from our office in Tena.

After travelling for 45 minutes by bus to the sector of Punta, we take a motorized canoe along the River Napo Next to visit a Kichwa family where we will make chocolate and learn about the cacao farm.

After that, we continue travelling, this time along the River Arajuno, by motorised canoe. We will make our second stop at the mouth of the River Cusano where the guide will take you on a short walk through the jungle. Along the walk, he will tell you about the abundance of resources that the jungle provides to local people both in the past as well as in the present. These resources include plants used for medicine, food, fibres and construction.

We will make our third stop in other kichwa family to see the Caiman Lake. There, also you can see the weapons, tools and traps people used in the past and in some cases still use.

After those activities, we will take tyres to go tubing, which is a class 1 extreme aquatic sport. We will head downstream until we reach our third stop: AmaZOOnico, an animal rescue centre.

AmaZOOnico is an animal rescue centre that rehabilitates, reintroduces and looks after animals that have been victims of illegal trafficking. During the rehabilitation process, some animals can be successfully reintroduced to Selva Viva, a

protected forest. There we can see several animals that are native to the Amazon Region.

To finish our tour, we will go on a final adventure: tubing until we reach the majestic River Napo. From there we will go by motorised canoe until we reach the Punta de Ahuano where a delicious lunch will be waiting for us.

Once we have finished our excursion to Ahuano, we will go to our rustic lodge which is located in the Upper amazon, community of Uchuculin, approximately 1 hour away. There, we will walk uphill and downhill for 20 minutes through the jungle to reach the ECO-DREAMS cabin lodge. We will familiarize ourselves with the place and its surroundings

7pm: dinner

After dinner, you can relax in the hammocks.

Day 2

JUNGLE, FULL HIKING, CANYONS, RIVERS

7:30 Am Breakfast

9 am.-Departure from the cabin lodge to go on a 3-hour roundtrip to and from the viewpoint where we will observe an exuberant abundance of vegetation and a panoramic view of the Napo River. Along the way, the knowledgeable jungle guide will show and teach us how our ancestors used the resources of the jungle to survive. We will learn about medicinal plants

1pm Return to the cabin lodge for our lunch and rest

3Pm We head for the "route of the dreams". This is a thousand-year-old pathway where in ancient times our ancestors used it to go to other communities and to the Napo River. Today, with the support of tourism we try to keep the area alive. We will visit the caves of the parrots, known as Kali kali in Kichwa. They reproduce in these caves once a year. We will cross crystalline rivers and canyons.

Making handicrafts with local fibres from the forest

7pm Dinner

9pm We will make a bonfire and drink a traditional Amazonian drink called Guayusazo.

Day 3

Pimpilala Waterfalls

7.30am Breakfast

9am Departure from the cabin lodge to the point where the car will be waiting to transfer us to the Pimpilala Waterfalls, located 20 minutes away.

Pimpilala means butterfly in Kichwa and its name reflects the abundant presence of butterflies in the area.

Our ancestors used this place to perform sacred bathing rituals and connect with the spirits of the jungle.

The guide will explain the origin of the place's name and show the plants and vegetation that surrounds this beautiful place. Along the way, we will cross the Pimpilala River and pass by several small waterfalls. We will climb some of them and then arrive at the majestic waterfall called Cara del diablo or Devil's Face.

There, we will refresh ourselves in the crystal clear waters, leaving behind all our stress and enjoying the purifying power of the wáters.

Certain parts of the ascent will be done with the help of our expert guide.

1.30pm Delicious Lunch

3pm We return to Tena, where the tour ends.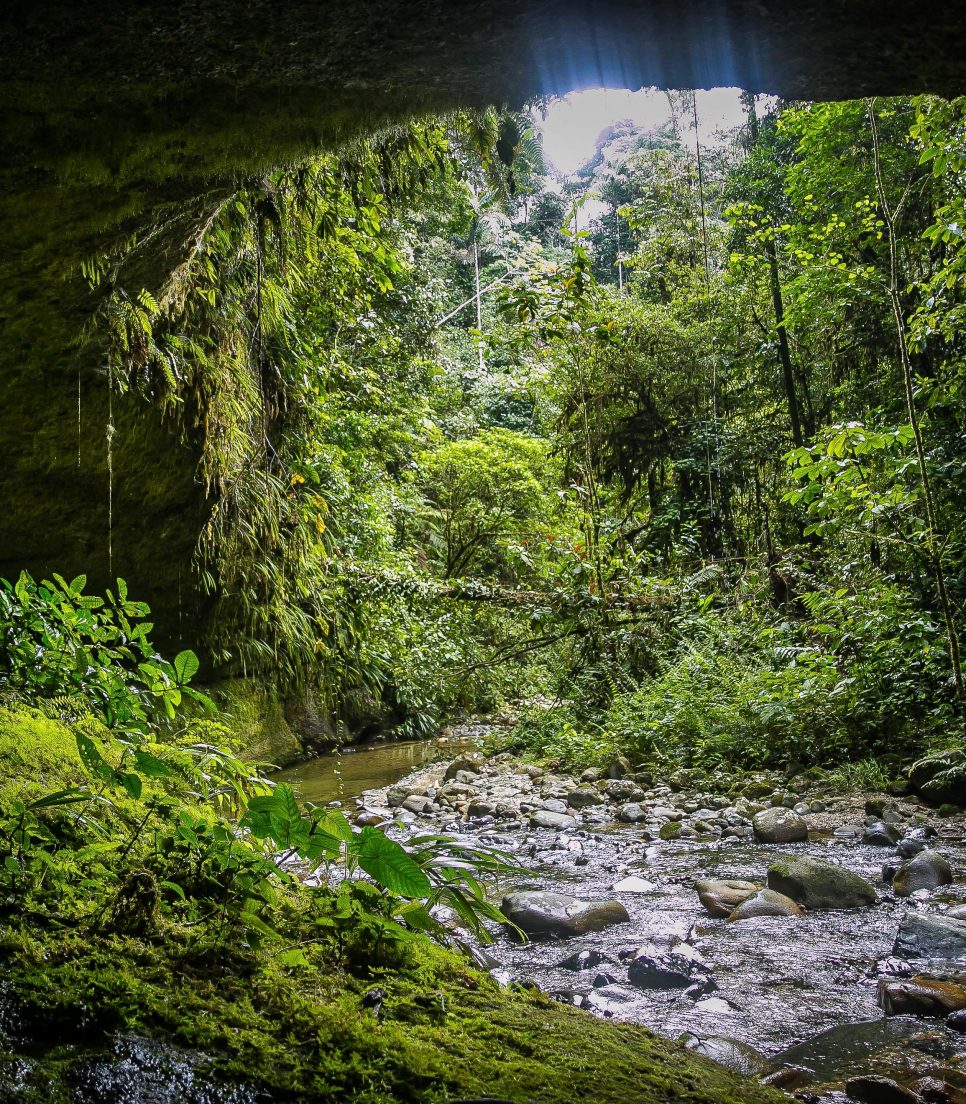 Upper and Lower amazon – Eco-Dreams cabins
Lodging
Rustic lodge located in the upper part of the Amazon. Located 12 km from Tena. From the road we must walk for 20 minutes on a mountain trail, and cross on foot 2 small rivers. It requires a good physical condition.
The housing conditions are rudimentary, it has a cabin with 5 private rooms. Bed, mosquito net and hammocks. Outside bathroom outside the rooms. Without electricity. Candles provided. Being located within the jungle, you have the opportunity to be more connected with nature. This is a special place for those who like to enjoy peace. Surrounded by paths that lead to lookout spots, rivers and waterfalls.
Lodging details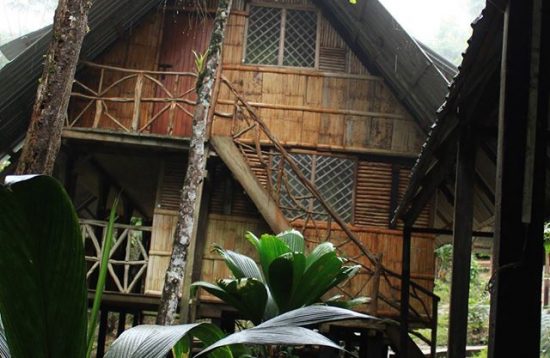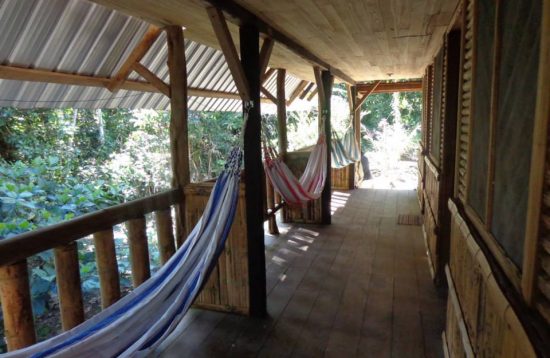 Your message has been sent. We will contact you as soon as possible. This message will disappear shortly.
Please fill in all the required fields.